Revelate Designs Spinelock 10L
Regular price
26.605 kr
/
---
We set out to create the most stable, low profile mounted, feature loaded, waterproof seat bag available. The Spinelock™ seat bag checks all the boxes.
The Spinelock integrates user tested and approved features like a one-way air purge valve, rear light slots, loop and bungee deck, and an external plastic bottom with a new patented attachment system. Stability was the driving element in the design process. If you want something you can pack and forget, the Spinelock is your seat bag.
There are two size options, neither of which sacrifice features for capacity. The smaller but largely versatile Spinelock 10L maximizes your carry with minimal tire clearance and provies a generous amount of waterproof storage with additional space on the external corded deck. . If you are going on a long expedition or carrying cold weather gear we recommend checking out the Spinelock 16L.
How it works:
The Spinelock stability system consists of three components: the saddle clamp, seat bag mounted "Spine" baseplate, and pin.
A low profile, high strength, forged aluminum clamp works in combination with precision IGUS bushings to form the pin interface. Twin forged upper arms, fastened by Torx-25 bolts, rotate into position above the saddle rails for easy mounting.
>Resembling a spine ramp familiar to skateboarders, the "Spine" baseplate is made of an impact resistant UV-stabilized nylon and is integrated to the seat bag surface. The plate features two mounting positions to accommodate seatpost setback and saddle adjustments. To connect the bag, you simply line up your selected mounting position to the seat mounted clamp and slide the pin through the aligned holes. Attaching the side compression straps to the wings of the clamp fixes the pin in place and you're ready to ride!
Winner of the 2020 Gear of the Year Awards! See what Bikepacking.com has to say, read the Spinelock review.
Innovative Spinelock stability system completely eliminates side to side sway
Waterproof construction
Two mounting positions to accommodate seatpost setback and saddle adjustments
A low profile, high strength, forged aluminum clamp works in combination with precision IGUS bushings to form a quick-release pin interface making bag removal a cinch.
Quick release bag from bike
Internal HDPE plastic structure 
One way, low profile, air purge valve 
Carbon seatpost friendly
Hypalon slots for a rear light
Top mounted external webbing and bungee for additional storage
Protective external plastic bottom frame sheet
Active cam buckles prevent side straps from slipping on rough terrain
Minimum 8 in / 20 cm tire clearance (Shown as A)
Minimum exposed seat post 6.5 in / 16.4 cm (Shown as B)
Traditional saddle style rails are required. 
Does not work with most Brooks saddles.
Important information on use and fit: 
Not compatible with carbon fiber saddle rails
Only compatible with traditional style saddle rails and is not compatible with most models of Brooks saddles including (B17, B66, B67, Flyer, and similar).
This product is not designed for use with dropper seatposts.
This bag is for carrying soft, pliable objects. Sufficiently pad any hard edge objects like cookware to prevent premature wear.
It is mandatory to check tire clearance prior to use, especially with full suspension bikes. Bag contact with a tire can cause a bad wreck and ruin your day. Tire damage to the bag is not covered by warranty.
A Torx-25 wrench is needed for installation. You likely already have one on your multi-tool!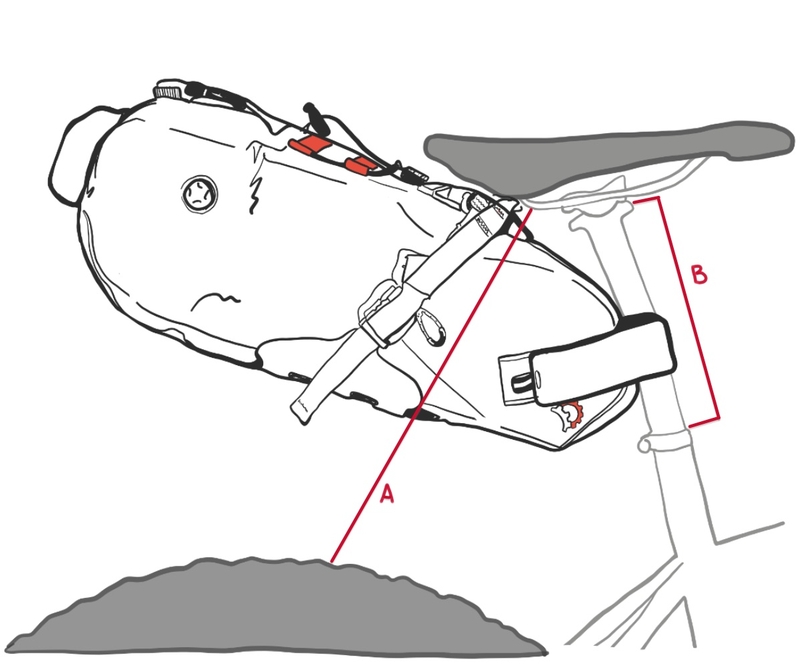 | | |
| --- | --- |
| Weight:  | 22.5 oz / 638 g |
| Volume:  | 610 in³ / 10 L |
| Materials:  | 210 Denier Ripstop Nylon with dual coated TPU, urethane based Hypalon reinforcement fabric, UV-stabilized, impact resistant nylon resin, forged aluminum. Imported. |