Revelate Designs Mag-Tank Bolt-On
Regular price
8.702 kr
/
---
We took the beloved Mag-Tank™ and made a version compatible with top tube bolt bosses.
The Mag-Tank takes a new twist on top tube bags. Instead of a zippered opening, access to the bag is by a smartly contoured top flap held in place by a magnetic buckle with mechanical engagement (read - the magnet aids in closure, while load is placed on a connection). Unlike a conventional magnetic closure, the Mag-Tank will not unintentionally open when you end up in the trees with your bike upside down. You can easily open the bag one handed by pulling outward on the cord loop and you have access to the whole top of the bag. To close, just flick the flap down and the buckle self-engages!
Compared to our standard Gas Tank, the Mag-Tank is just a hair smaller to prevent leg movement from hitting the edge of the flap opening.
Please note - While the cover to this bag is designed to shed rain and spray, due to the large panel opening it is not a sealed bag or waterproof bag. Additionally, while the closure is secure there is the possibility that small or loose objects can come out of the bag from rough trails or lying the bike on it's side. We recommend small items like loose keys and gummy bears are put in a ziplock.
Single handed access with effortless magnetic closure
Two sets of mounting holes on bag bottom to allow bolt-on attachment to top tube

First set of mounting holes spaced at 76 mm (+/- 2 mm) from the front of the bag
Second set of mounting holes spaced at 100 mm (+/- 2 mm) from the front of the bag
Distance between mounting holes is 64 mm (standard water bottle cage spacing)

Velcro secured, padded bag bottom conceals mounting bolts
Side panels stiffened with HDPE plastic sheets
Interior lined with yellow fabric for greater visibility
Adjustable height daisy chain front attachment with a spacer block to clear stem clamp bolts
Dimensions (in.)
Height (H)
5
Length (L)
8.5
Width (W)
2.5 at stem; tapers to 1.5 at rear
Dimensions (mm.)
Height (H)
127
Length (L)
216
Width (W)
64 at stem; tapers to 38 at rear
Mounting bolts are not included. During test fitting we have noticed that longer bolts may be needed on some bikes including the Salsa Cutthroat.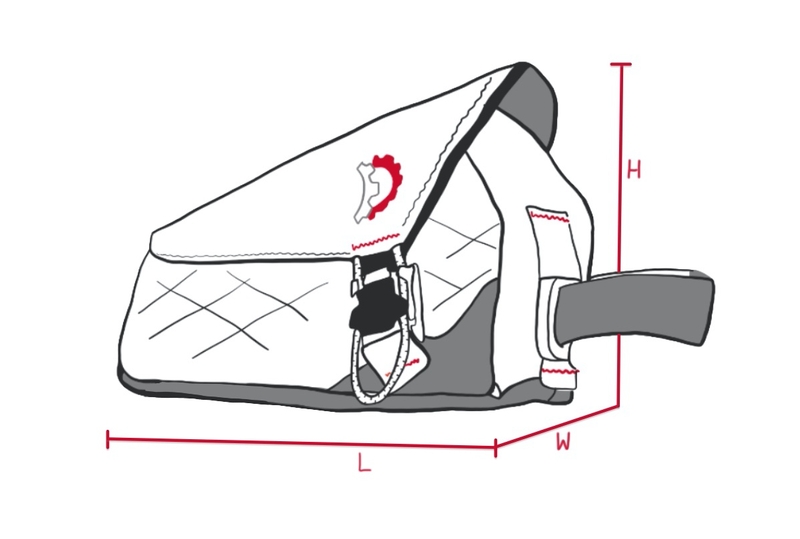 | | |
| --- | --- |
| Weight:  | 4.5 oz / 128 grams |
| Volume:  | 65 in³ / 1 L |
| Materials:  | Dimension Polyant VX-21 with abrasion resistant finish & 42 X-Pac; 420 denier yellow and red lining; closed cell foam padded tube sections. HDPE sheets. Nickel plated grommets. Imported. |