Revelate Designs Sweetroll 15L
Regular price
17.089 kr
/
---
The Sweetroll® is our standalone, 100% waterproof, bikepacking handlebar bag. It's highly versatile with dual side roll down closures  that allow for a wide range of load carrying options. The modular front system integrates with our front pockets for additional storage. Sweetrolls are built with radio frequency welded seams.
Waterproof RF welded construction.
Adjustable stacking spacers offset the Sweetroll from the handlebar and prevents cable and lever interference and bag abrasion - An original Revelate Designs innovation.
Manta Flap - Shove stuff between the flap and the main bag. Features two rows of daisy chain webbing for custom configurations. Swap it out for a pocket for added capacity.
Fiberglass cross stiffener adds rigidity to the mounting area and provides structure when packing and unpacking.
Thick EVA foam spacer block at the head tube prevents abrasion and bag wear against bike frame.
The rule of thumb is to keep a lighter load on your handlebars for better handling.
Dimensions (in)
Size
Diameter (D)
Max Length (L)
11L 
6.25
22
15L
7 
22
Dimensions (mm.)
Size
Diameter (D)
Max Length (L)
11L 
159 
559
15L
178 
559
The 11L is best for singletrack, while the 15L is better suited for dirt roads, winter trips and bulky loads. Bigger is not better; choose the smallest bag you can get away with. Due to it's air tight construction, for best packing - compress your load like you would a drybag. Sweetrolls do not feature transverse external compression straps since you cannot compress air once the bag is closed.
Disk or V Brake only - NOT compatible with Cantilever or road style front brakes with a vertical exposed cable.
Drop bars? Choose the large size for larger carrying space in a limited width. Please read this blog post for more info.

Jones loop bars? The Sweetroll has additional dedicated attachment points for 4 point mounting on Jones loop bars.  Please read this blog post.
Accesssory pockets sold separately.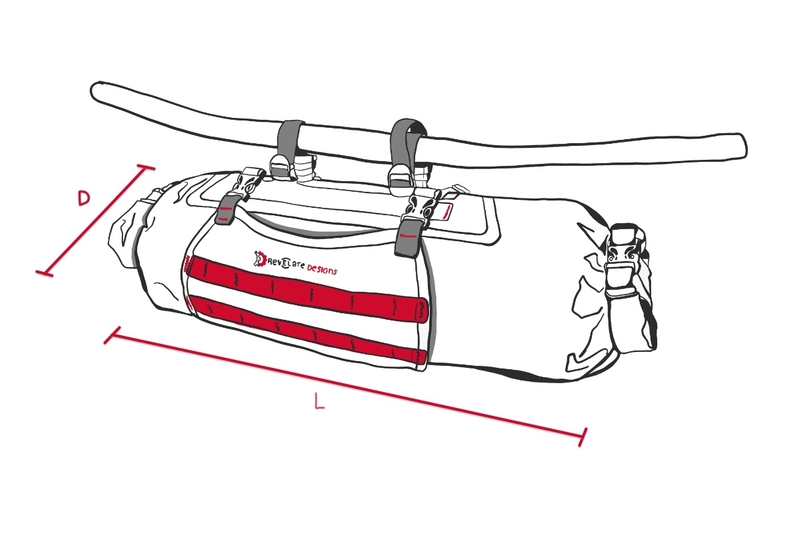 Weight: 
11L: 15.5 oz / 439 g


15L: 16.5 oz / 468 g

Volume: 
11L ; 671

 

in³

 
15L ; 915 

in³

Materials: 
Dual coated 210 denier waterproof TPU laminated nylon; 420 Denier Dual Coated TPU. Imported.